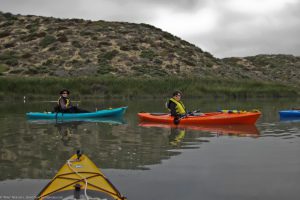 It's a debate that's been going on for decades among kayakers: Sit On Top vs Sit In Kayaks. Especially if you are new to kayaking, it can be difficult to choose which type of kayak is best for you. Each type is designed for different purposes. Of course, a lot of it will depend on which type you prefer. We have a preference too. For fishing, scuba diving and surfing, we recommend a Sit On Top (SOT). For recreational paddling and camping trips, we recommend a Sit In Kayak (SIK). But hey, everyone has their own personal preference. Some fisherman prefer to use a SIK while others may like to use a SOT for camping, so it makes sense to try them out to see which is right for you. The best way to do this is by finding a local rental outfitter and taking each type out on the water. It will help you get a feel for them so you can make an informed decision.
Quick Note About Sit On Top Kayaks
Most fisherman, scuba divers and surfers prefer to use Sit On Top kayaks. We state this just about every article about fishing kayaks because it's true. They give you more freedom to move around and they provide easy access to your fishing gear and bait.
What is a Sit On Top Kayak?
A Sit-On-Top kayak or SOT was developed for leisure use and was designed to be similar to a surfboard so it could handle surf conditions easier. There is a small seat or cockpit located on the top of the kayak where the paddler sits. Small drain holes, called scupper holes, are located in the bottom of the cockpit and helps to drain any water that comes into the cockpit.
SOT kayaks can fit up to four paddlers and are popular for sports where the participant needs to enter the water easily or have quick access to equipment. The cockpit usually sits on top of the water so the center of gravity is higher. SOTs are often wider than traditional SIK which makes them slower.
Advantages of a SOT Kayak
They are virtually unsinkable. If your SOT kayak gets tipped over, it will not sink. You can just flip them over and get right back to paddling. When water gets inside the cockpit, it will drain out through the scupper holes.
They provide quick access to Gear. Sit-On-Top kayaks have a ton of storage that is easy to get to. Unlike a SIK, you don't have to struggle to reach the storage areas from the cockpit.
More comfortable for larger folks. Because the wide with and open air cockpit, larger folks will find a SOT easier to use and more stable than a SIK.
Sit-On-Top kayaks are less expensive than Sit-In-Kayaks. SOTs are thinner so they are made with fewer materials than SIKs and are easier to ship. This can lower the costs by a hundred dollars or more.
They provide an easy way to get into the water. If you enjoy scuba diving or surfing, a SOT kayak makes it easy to get in and out of the water.
Our Favorite SOT Kayak
We absolutely love the Ocean Kayak 9-Foot Frenzy SOT Recreational Kayak. It is a small, easy to maneuver Sit-On-Top kayak that is stable enough for the roughest waters, yet works well on flat water. It is a good option for all paddlers from beginners to experts. This kayak is extremely durable and is made from a virtually indestructible polyethylene.
The Frenzy contains a large cockpit that is designed to keep you secure. The foot rests are built to keep any size paddler in a comfortable position. There is plenty of storage available including a tank well, a removable bungee cord and a 6-inch screw-in hatch. The hatch is perfect for items that can't get wet such as a cell phone, camera or wallet. The molded cup holder, convenient carrying handles and drain holes make the Ocean Kayak 9-Foot Frenzy SOT Recreational Kayak one of our favorite Sit-On-Top kayaks.
What is a Sit In Kayak?
A Sit-In-Kayak or SIK is a traditional style where the paddler sits in an enclosed cockpit with their legs inside the kayak. There are often adjustable footrests, cup holders, backrests and armrests located inside the cockpit to keep the paddler comfortable.
Advantages of a SIK
A paddler can remain dry and out of the water. The enclosed cockpit keeps water from splashing onto the kayaker. There are no drain holes in the bottom of the cockpit so the entire compartment remains dry.
A SIK offers more stability than a SOT. Since the cockpit is inside the kayak, the paddler remains on the water line. This keeps the kayak stable and makes it less likely to tip over.
There are more storage areas in a SIK than a SOT. We highly recommend a SIK for camping or longer fishing trips because there are more places to store your gear.
Our Favorite SIK
We really enjoy how the Vapor 10 goes far beyond the basics with so many features that make kayaking a joy. This kayak is Old Town's newest boat with a stable, maneuverable body which works great on lakes, ponds and rivers. It can go in and out of the water quickly so you can get your adventure started sooner. The adjustable Comfort Flex XT seat with padded seat and back, adjustable foot rests, thigh pads and built-in cockpit tray with cup holder are just some of the features we love.
Like other kayaks made by Old Town, the revolutionary design is the stern day well. The well is designed to have an outer edge high above the water to prevent water from getting inside. This means that your lunch, cell phone and wallet will stay dry even if the water is rough and the waves are crashing over the top. The Old Town 10 Vapor Recreational Kayak comes in two attractive colors: sunrise and cloud.