Kayaking Technique Guide: Stand Up Paddling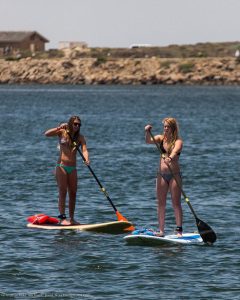 One of the most useful techniques you can learn is stand up paddling or SUP. In fact, manufacturers are now making kayaks specifically for SUP. It is one of the fastest growing water sports in the country. It provides a good, low-impact, full-body workout and it is a lot of fun. All you need to learn the technique of stand-up paddling is a kayak, a life vest, a safety whistle and a paddle.
Types of Stand Up Kayaks
When it comes to stand up paddleboards or kayaks, there are three basic types – recreational, touring and fitness.
Recreational – This is the most popular type of SUP. These kayaks are designed for relaxation and fun. They are often 10 to 12 feet in length and are very stable. You don't have to work hard to use them.
Touring – These are perfect for someone who wants a low impact workout but still would like to be able to enjoy the water. They are a little less table than the recreational kayaks which will make you work a little harder and use more muscles. They are often 12 to 14 feet in length.
Fitness – Only purchase a fitness SUP if you are dead serious about getting into shape. They offer very little stability and make you work hard to stay upright. They are often the same length as touring paddleboards.
When choosing the right yak for you, think about your weight. A heavier person should choose a wider kayak than someone who is smaller. It is a good idea to test out a variety of kayaks before buying one.
Choosing the Best Stand Up Kayak Paddle
Paddles for SUP kayaks come in a variety of sizes and shapes and it is important to get the right one for your height. The rule of thumb is that the paddle should go over your head by 10 inches for paddling in flat water and eight inches over your head for rough water. A wider paddle should also be used for flat water while a narrower paddle is a better choice for surf. Always choose the lightest paddle you can find.
Getting Started
Standing Steady
You will need to learn to stand steady on the kayak. Here are some tips for staying upright:
Keep your feet parallel to the board, about hip-width apart and centered in the middle of the board.
Use your hips to balance your body.
Keep your back straight and slightly bend your knees.
Stare straight ahead and do not look down.
Stroke Technique
Once you have balanced yourself on the kayak, you will need to learn how to paddle. This is where it gets fun. Here are some stand up paddling tips to help you get going:
When you paddle on the right, keep your right hand lower on the paddle than the left. Vice versa when paddling on the other side.
The angle of the paddle should face away from you.
Keep your arms straight while twisting away from your body as you paddle. Use your stomach muscles to paddle rather than your arms.
Use your top hand to push down on the paddle grip.
Push the blade completely under the water before pulling it back and out of the water.
Keep your strokes short and quick. You don't need to use all of your energy to paddle.
Paddle 4 or 5 strokes on one side and then switch to the other side and complete 4 or 5 strokes before switching back.
Turning the Kayak
There are three ways to turn your kayak while standing. The first way is by using a sidestroke to turn the kayak the opposite way you are paddling. The second way to turn is by using a backpaddle to turn around quickly. Finally, you can use a sea stroke which means that you paddle from the stern of the kayak to the rear in long strokes. All three strokes work well at turning the kayak, the one you use will depend on your specific situation.
Common Mistakes
Here are a few mistakes to avoid:
Leaning over the kayak and hunching the back.
Looking down instead of where you are going.
Holding the paddle so the angle faces towards you instead of behind you.
Having both hands on top of the paddle.
A hunched posture. Keep your back straight, shoulders level.
Stand Up Paddling Technique: Next Steps
Once you have got the basics down pat, you can continue to improve your technique by trying out faster moving waters or ocean surf. There are plenty of advanced strokes to learn and you may want to try out a more challenging yak. Whatever you do, just go out and have fun!